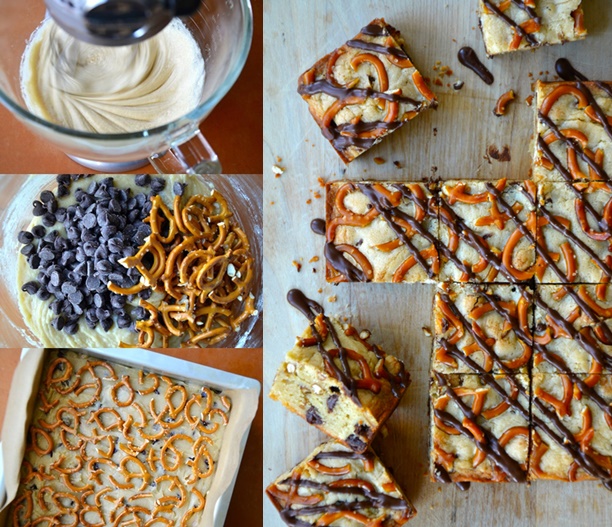 These Chocolate Chip Cookie Bars with a Salty Pretzel make life easy when you want the best of both worlds. If you have a sweet tooth, these bars are for you. If you are in the mood for a little salt, these bars are also for you. These cookie bars will put a smile on everyone's face.
Ingredients:
1 cup (2 sticks) unsalted butter, melted
1 cup packed light brown sugar
1/2 cup sugar
2 large eggs
1 1/2 teaspoons pure vanilla extract
2 cups all-purpose flour
1 teaspoon salt
1 1/2 cups chocolate chips, divided
1 cup crushed salted pretzels, divided
2 teaspoons vegetable oil
Directions:
Heat oven to 350°F. Line 8-inch square pan with parchment paper, allowing it to hang over two sides. Coat the paper with cooking spray.
In a stand mixer fitted with the whisk attachment, whisk together the melted butter with the sugar and light brown sugar until smooth, about 2 minutes. Add the eggs and vanilla and whisk until combined. Stir in the flour and salt just until incorporated. Stir in 1 cup of the chocolate chips and 1/2 a cup of the crushed pretzels.
Pour the batter into the prepared pan, smoothing the top, then sprinkle the remaining 1/2 cup of crushed pretzels on top, gently press dough with fingers to flatten and cover bottom of pan in even layer.
Bake for about 30 until a toothpick inserted comes out clean.
Melt the remaining 1/2 cup chocolate chips with the vegetable oil in a double boiler or in the microwave.
Remove the cookie bars from the oven and allow them to cool completely in the pan then remove the cookies using the parchment paper overhang.
Drizzle the cookie bars with the melted chocolate and allow them to cool until the chocolate hardens.
Cut the cookie bars into 16 squares and serve.
More –>http://bit.ly/1sJraK4