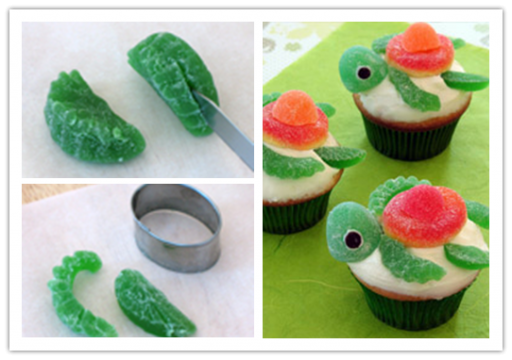 How adorable are these cute Turtle Cupcakes! This is another good idea for kids party or any occasion, and kids will love them!
What you will need:

Cupcakes
Frosting
Sour Peach Gummy ring candies
Red and green gum drop candies
Spearmint Leaves candies
Mini chocolate chips
Toothpick or kitchen skewer

Oval fondant cutter
Instructions:
1. Bake cupcakes and frost them
2. For the turtle shell: Place a gummy ring on each cupcake. Slice off the bottom half of a red gum drop and place the top half at the center of the gummy ring. Push the gum drop into the frosting so it will stick.
3. For fins, slice a Spearmint Leaves candy in half. Using a oval fondant cutter, cut each half into two pieces as shown. Use the curled pieces for the front fins and the thicker pieces for the hind fins.
4. For the head, poke a hole into the sides of a green gum drop using a toothpick or kitchen skewer. Push mini chocolate chips into the holes for the turtle's eyes. Use a dab of frosting to hold the eyes in place. Place the head onto the cupcake and slightly push into the frosting so it will stick.
5. All done!