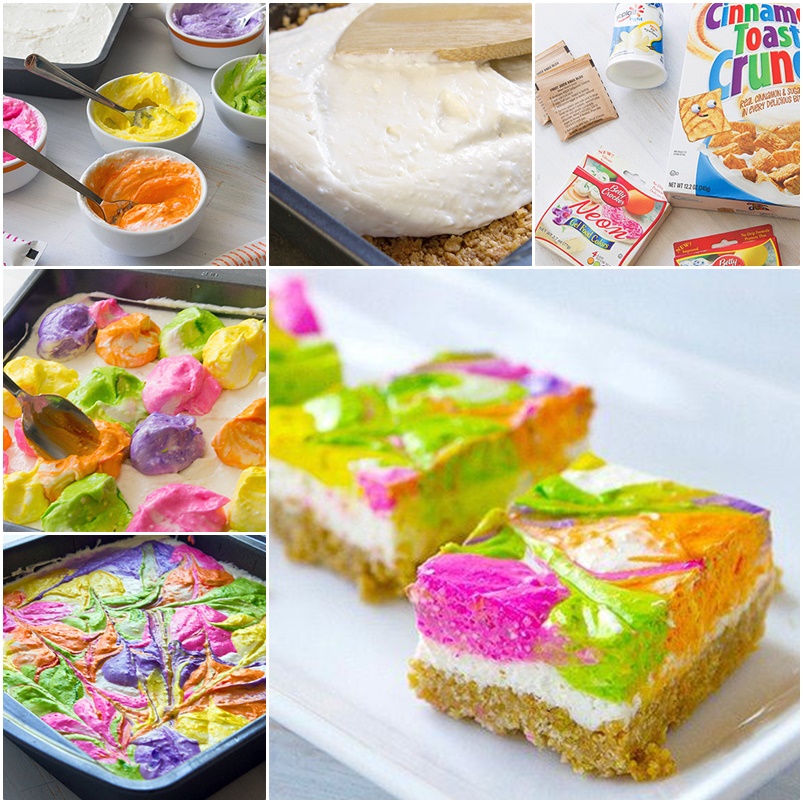 These simple and colorful cheesecake bars will be the life of any party! The base is a Cinnamon Toast Crunch crust topped with a neon coloured yoghurt and cream cheese cheesecake mix. Health and yummy!
Ingredients:
4 cups Cinnamon Toast cereal
5 tablespoons butter, melted
2 packets unflavored gelatin
1/2 cup very warm water
2 (8 ounce) packages cream cheese, softened
1 (4 ounce) Original vanilla yogurt
2/3 cup sugar
Neon food coloring gels
Directions:
Make cereal finely ground, then add melted butter, and press into the bottom of an 8×8-inch baking pan.
Dissolve gelatin into warm water. Mixer with cream cheese, yogurt, and sugar until smooth.
Spread half of the cream cheese mixture on top of the cereal crust.
Divide remaining half of the cream cheese mixture into even amounts among 4 small bowls. Tint each with a different color of Betty Crocker neon food coloring. Stir until the color is evenly mixed in each bowl.
Place dollop of each color on top of the uncolored cheesecake layer and flatten.
Refrigerate for 1-2 hours before slicing and serving.
More detail here