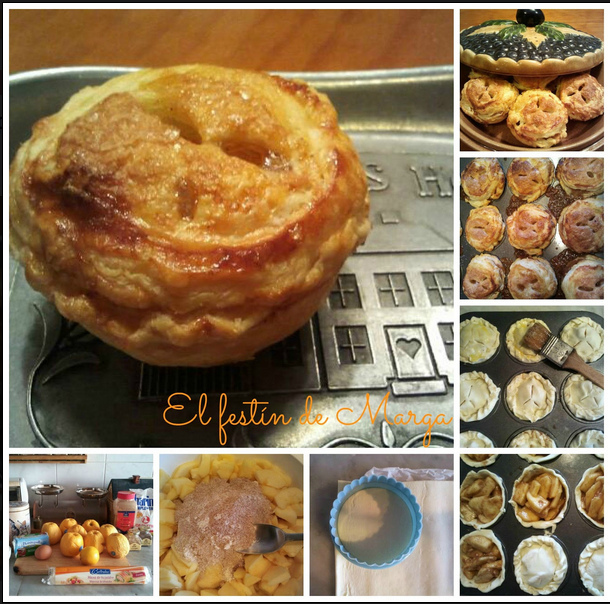 I love these mini pies because I can serve several different types together and everyone can select their favorite. These mini crumb apple pies are perfect for any dessert table. Yummy!
Ingredients:
6 large apples
Juice of half a lemon
½ cup white sugar (and a little more for dusting)
½ cup brown sugar
3 tablespoons flour
2 teaspoons cinnamon
½ teaspoon ground ginger
½ teaspoon nutmeg
2 tablespoons butter
2 sheets of puff pastry fresh dough
An egg
Instructions:
Turn the oven to 175 º( 350 F)
Peel the apples and cut into thin pieces (like potato omelette).
Place in a bowl with the juice of half a lemon.
Mix in a small bowl the flour, sugar and spices.
Place over apples and stir so that all the pieces are soaked in the mixture.
Coat the molds with butter.
Choose two round dough cutters (or glasses). Larger one for the base and another, slightly larger than the size of the mold to the top.
Spread a puff pastry and cut the larger circles.
Place on the molds, stretching and squeezing a bit so they are well adapted. It has to stand out a little dough at the top to close the cakes.
Fill the molds with the mixture, not spend.
Pour a dash of apple butter on top of each small cake.
Cut smaller circles to the top.
Place the lids. Using your fingers, close the tarts, joining the top and bottom together and turning up.
Cut with a knife three dashes in the center of the top to allow air to escape.
Beat the egg and paint with it the surface of the cakes. Sprinkle a little sugar.
Cover lightly with a bit of baking paper and put in the oven 25 minutes. It serves the same role that came with the pastry. After 25 minutes, remove the paper and leave 10 or 15 minutes, until well browned.
Remove from oven, let cool 5 to 10 minutes were spent on a tray.
Serve and enjoy.
Receta en espanol por: here