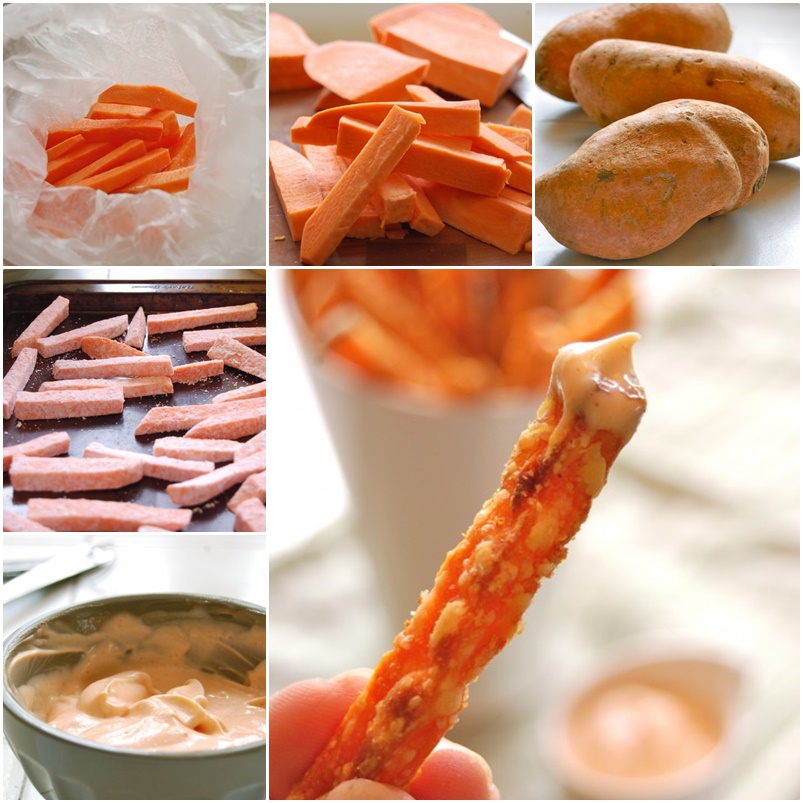 I love sweet potatoes, I love French fries, so I must try this sweet potato fries. This recipe requires only three ingredient,  sweet potato, a little oil and corn starch.  Soak sweet potato strips in water at less  an hour, toss in cornstarch, drizzle with olive oil bake 15 minutes at 425, flip and bake 5-10 minutes. I think my kids will like dipping with yogurt.
Ingredients
2 large sweet potatoes
2-3 Tablespoons of cornstarch
1/2 cup Mayonnaise
1/4 tsp Cayenne Pepper
1 tsp Sriracha Sauce
Instruction:
Preheat oven to 425°.
Peel and cut sweet potatoes into fries no thicker than 1/2″.
Soak in water for minimum of one hour, but preferably for half a day.
Drain water from bowl.
Put cornstarch in a plastic bag and drop all of your fries in. Blow a little air into the bag, twist the top and shake it vigorously.
Lift the fries out onto one or two baking sheets.
Coat with Olive Oil. The more the crispier and less sticking you'll have, but the less healthy they'll be. Use 2 pans if you have to. You want to make sure the fries aren't crowded on the pan otherwise they'll steam as opposed to getting crispy.
Bake for 15 minutes then check. Once bottom of fries are getting crisp, flip them over and bake for another 5-10 minutes.
Dipping Sauce:
Mix together mayo, pepper and Sriracha sauce.  Adjust to your taste.
Source from here