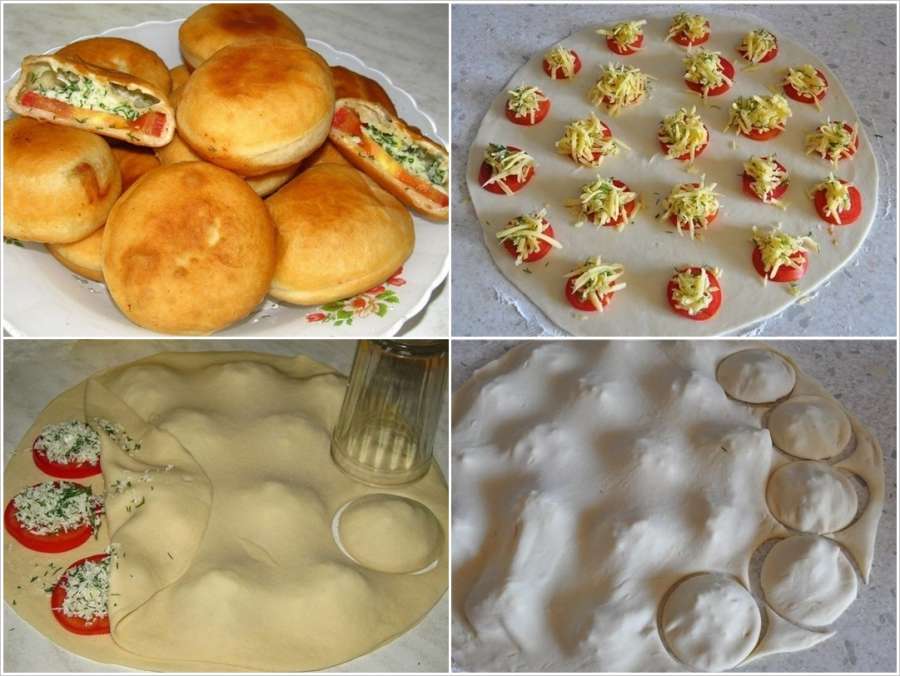 These mini calzones are perfect as an appetizer to serve to family or guests.
Ingredients:
2 sheets of pie crust.
5 tomatoes sliced thin.
a Tablespoon Herbs (Rosemary,oregano, basil or any Italian herbs)
Cream cheese, Parmesan, Mozzarella, Romano (or a blended package of fine shredded cheese)
salt and pepper to taste.
Blend the herbs and cheeses together
Steps:
Prepare a dough for

pie crust.

Make a mixture of cream cheese, mozzarella, and Parmesan

Add dried or fresh herbs to it.

Add salt and pepper to the mixture.

Cut tomatoes in round slices.

Roll the pie crust dough in two round discs.

Place tomato slices over the first disc as shown and spoon the cheese and herb mixture on top of every slice.

Cover the cheese tomatoes with the second dough disc. Now the areas with tomatoes and cheese will be clearly seen as bulging circles.

Make discs of those areas with a glass as shown. While doing this make sure the sides are sealed.

Bake them 

at 375 F  

until golden and enjoy.