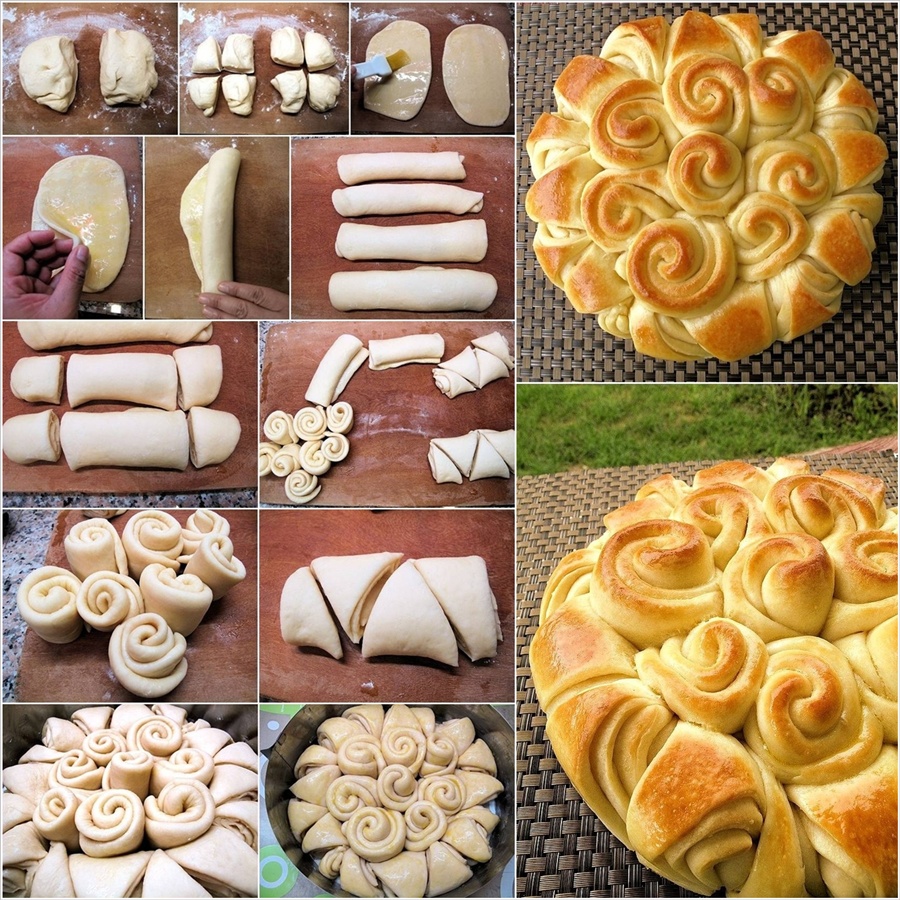 Such a beautiful way to enjoy bread rolls like a flower bouquet in bloom. You can make it by yourself by following the steps.
Ingredients ( for reference)
2 teaspoons dry instant yeast

1 tablespoon sugar or honey

100ml warm milk

500g all-purpose flour, plus extra for kneading and flouring

1 teaspoon salt

2 eggs, lightly beaten

150 ml warm milk (extra)

2 tablespoons olive oil

1/2 teaspoon vinegar or lemon juice

100 g butter, melted and cooled
Glaze:
1 egg yolk

2 tablespoons milk
How to do:
Dissolve yeast and sugar in 100 ml warm milk, leave in a warm place about 10 minutes.

In another bowl, sift the flour and salt together. Add beaten eggs into it, the remaining warm milk, olive oil, vinegar and yeast mixture. Knead the dough with your hands or in your mixer until it separates from the sides of the bowl. Remove dough, place on lightly floured surface and knead for about 10 minutes until it becomes a soft, pliable dough. Place in a greased bowl, cover with a towel and leave to rise in a warm place until doubled in volume – about an hour.

Punch risen dough and transfer on a floured surface.

Preheat oven to 180C. Grease or line a large baking tray. In the middle of the tray, arrange the cut ends of the rolls around each other to form a circle, placing the cut sides down. Arrange the cut triangles to completely surround the middle circle. Cover with towel and leave the dough to rise in a warm place for about 30-40 minutes.

Beat the yolk with the milk with a fork to form a glaze and brush top of the bread with the glaze. Bake bread for 20-30 minutes, reducing the temperature to 160C after 10 minutes in the oven.

Brush bread with melted butter as soon as it comes out of the oven, cover with a towel and leave to cool for 10-15 minutes before eating.
More detail here