Make something special for you and your family with this delicious DIY recipe: delicious and sweat French toast roll's.
Ingredients:
8 slices white sandwich bread (the soft, fluffy type)
Softened cream cheese, diced strawberries, or Nutella
2 eggs
3 tablespoons milk
1/3 cup granulated sugar
1 heaping teaspoon ground cinnamon
butter, for greasing the pan
Instructions:
Take the eight slices of bread and cut the crust. Choose the filling for the French rolls. You can combine the cream cheese with the strawberries or the Nutella with the strawberries. Add one strip of filling on the bread. Add also the strawberries on top of the filling. Roll the slice of bread tightly. Prepare in the same way the other seven bread slices. Take a medium size bowl and mix the eggs with the milk. In another medium size bowl add the cinnamon and the sugar. Add two tbsp of butter in a pan over medium heat (you can add more butter in the pan if needed). Take each bread roll and dip it in the egg/milk mix. Cook the rolls on all sides until golden brown. Take them out of the pan and add them in the sugar/cinnamon bowl. Coat them well with the mixture.
Ready to eat! Enjoy!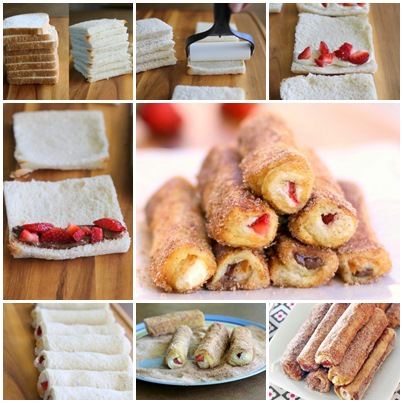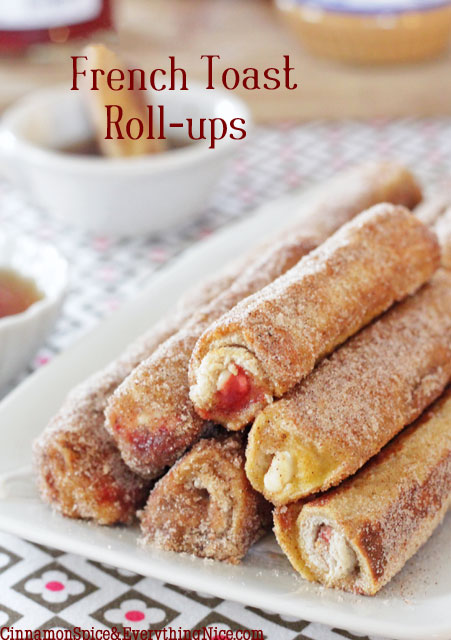 Click below link for recipe