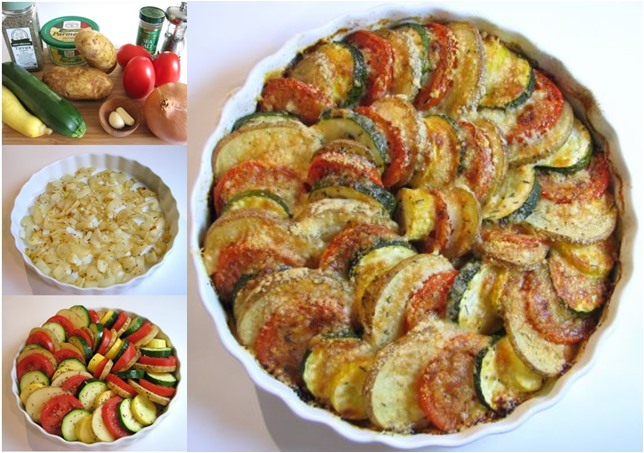 Make vegetables interesting and fun as you aspire to eat healthy. This is a really simple recipe ! This looks so delicious.

Ingredients:
2 tbsp olive oil (divided)
1 large sweet yellow onion cut in half and sliced
2 cloves of garlic, minced
1-2 russet potatoes, unpeeled
1 zucchini
1 yellow squash
3 large Roma tomatoes
Sea salt, freshly cracked black pepper, to taste
Dried thyme, to taste
1/2 cup of grated Parmesan cheese
Process:
Heat 1 tbsp of olive oil in a large skillet over medium heat. Once hot, add the onions and saute until translucent, about 8 minutes. Add the garlic and cook for another 60 seconds.
Spread the onion mixture on the bottom of the greased baking dish.
Slice the potatoes, zucchini, squash and tomatoes in 1/4 inch thick slices. Layer them alternately in the dish on top of the onions, fitting them tightly into a spiral, making only one layer.
Season with sea salt, black pepper and dried thyme, to taste. Drizzle the last tablespoon of olive oil over the top.
Preheat the oven to 375 degrees. Cover the dish with tin foil and bake for 35 minutes, or until the potatoes are tender. Uncover and sprinkle the Parmesan cheese on top and bake for another 25-30 minutes or until browned.
More detail here