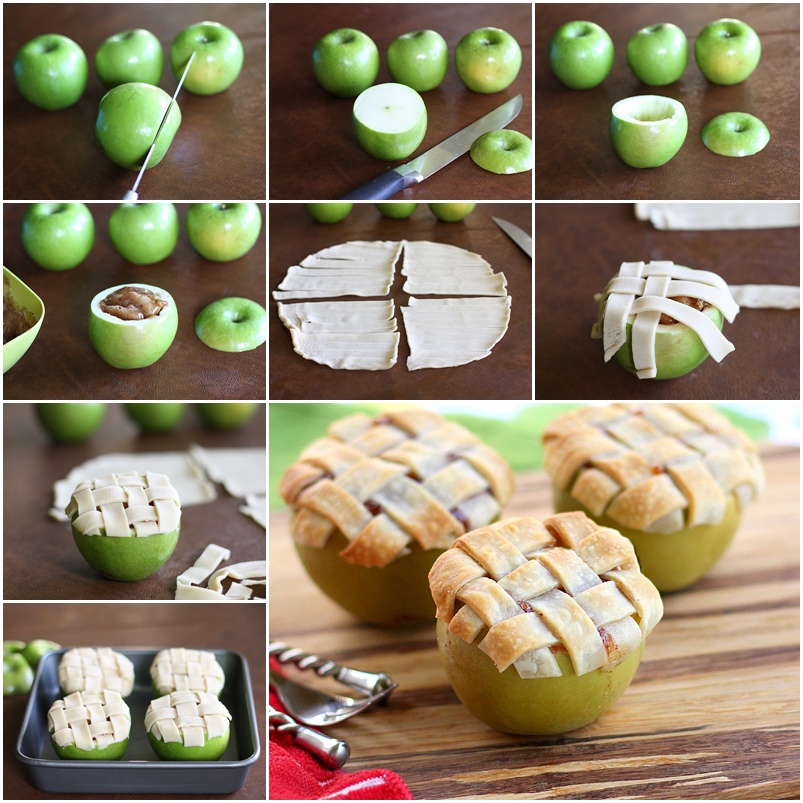 These Mini apple pies with lattice crusts looks so cute and yummy! They are perfectly and naturally proportioned –in edible serving dishes!
Ingredients
4 large Granny Smith apples
1 (21 ounce) can apple pie filling
1 teaspoon ground cinnamon
1 (14.1 ounce) package Pillsbury rolled pie crust (use just 1 of the 2 crusts in the box)
Instructions
Preheat oven to 400 degrees.
Slice the top off each of your apples and scoop out the inside of the apple. I used a knife and a spoon to hollow out the apple.
In a small bowl, mix the apple pie filling with the cinnamon. Spoon the filling into the well of each apple.
Unroll one pie crust and cut it into fourths; one for each apple. Then cut each quarter into 1/4-inch strips.
Lay strips of the dough on top of the apple. Then take one new strip at a time and alternate weaving it over and under the pie strips already in place. Repeat until the top of the apple has been covered. Trim excess pie crust around the edges with a knife.
Place apples in a baking dish and fill with 1/4-inch of water. Bake for 20-25 minutes or until crust if golden brown. Remove from baking dish and enjoy.
Source from here