I always want to prepare nutritious and delicious breakfast for my family. My kids are pretty picky on breakfast. They want to eat something different for breakfast each day. You can imagine how difficult it is. It's almost mission impossible. 🙂 I tried rice cake, cheese cake, bread etc. This turtle shaped crispy bread is one of them which is not only adorable, but also delicious. It's also a fun project to work with kids. My daughter always wants to be my little helper when I prepare this. Hope you enjoy this as much as we do.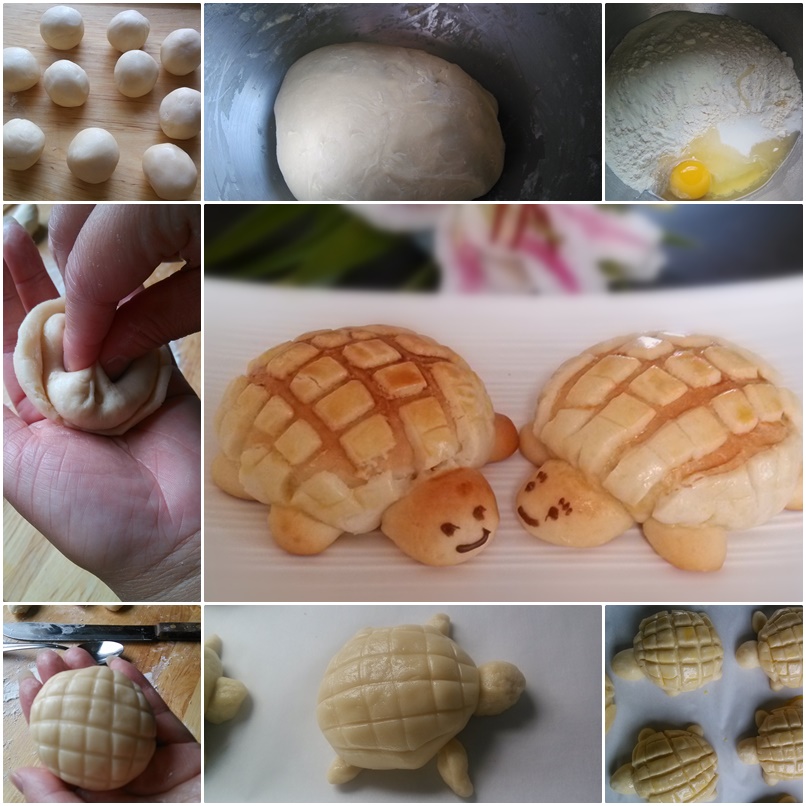 Ingredient for bread : ( 40g each, about 20 turtle)
Bread flour 3 cups (about 450g)
Milk powder 4 Tablespoon (about 25g)
Salt 1/2 teaspoon (about 2g)
Sugar 1/2 cup (about 100g)
One egg
Instant yeast 1 teaspoon ( about 2g)
Water 1cup (about 210g)
Unsalted butter 4 Tablespoon (about 55g)
Ingredients for Topping :
Cake flour, sifted 2 cups  (about 220g)
Powdered sugar 3/4 cup (about 100g)
Salt 1/4 teaspoon
Beaten egg 3 Tablespoon
Milk powder 1 Tablespoon
Unsalted butter, soften 8 Tablespoon (about 113g)
Tips: Topping using cake flour will be softer, bread flour will be more crispy.
Bread Steps:
Mix bread flour, milk powder, salt,  sugar, egg, yeast and water in the mixer and beat until form the dough.
Add the butter to dough, and continue to knead until the dough becomes smooth and stretchy.
Cover with a wet towel or lid. Let it ferment until it doubles in size, about 60 minutes under 80F (28c)
Divide the dough into 20 portion (about 40g each) and roll into balls. Let them ferment about 15 minutes.
Topping steps:
Beat butter with electric hand mixer until fluffy.
Put sugar,salt and milk powder and mix well. Then add beaten egg. Add 1/3 of egg each time and mix them well
Add cake flour to the mixture, and mix well.  Then wrap it with cling wrap and keep in the fridge for at least 1 hour.
How to make turtle:
Take the topping out from fridge and cut it into 20 strips (about 22g each) and roll into balls. 
Keep some bread dough as the turtle head and four legs. Press the topping dough ball into a flat disc, then place the topping on your left hand and lay the dough on top of it, and gently push the dough towards the topping until they stick to each other. See the photo below

Use spoon handle to press on the dough topping  to make the criss-cross pattern.

Put on the head and four legs

 Brush the bun top with egg wash, let it ferments.It should nearly double in size。Put it in the pre-heated 350 F (175 C) oven,bake for 15-20 minutes or until top turn golden brown.
Enjoy the recipe.