Rock painting is fun. As you can see from these examples, the painted rocks are so pretty. They can be great home decor or gifts. If you are interested in learning How To Paint Stones and Pebbles, this post is a good starting point.
First, of course, you need to find the perfect stone. Look for smooth rounded stones. River stones are best, or stones found on the beach. If you have a certain design in mind, like a cat, an owl, or a caterpillar, be on the lookout for the right shape stone to be your canvas. Or you can buy some from home improvement stores. Searching for just the perfect stone is part of the fun! Some stones have rough patches on them that will make painting a little more difficult. You can sand it down with sandpaper, starting with 100 grit and moving to 150 and 220 grit until the patch is gone.
You can watch the following video for more details. It's not as hard as you thought once you know the basics. Though painting rocks takes time and effort, but the results are so amazing.  How wonderful it would be to turn some ordinary rocks into beautiful pieces of art.
Here are simplified steps How To Paint Stones and Pebbles
Get smooth rocks found at the beach
Use acrylic craft paints to paint the whole rock
Draw the outline of your design using a very fine Sharpie
Paint in the design using a very fine brush with the acrylic paints
Use the Sharpie to trace the lines
Coat with nail varnish when they are all dry if you want more gloss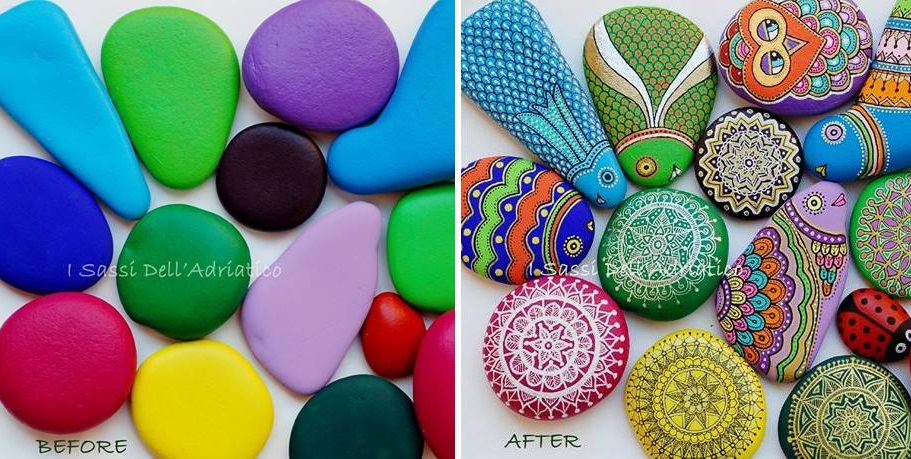 Click next page for video tutorial…