These teapot cake pops look so cute and pretty. They give you an opportunity to show this motherly character some love.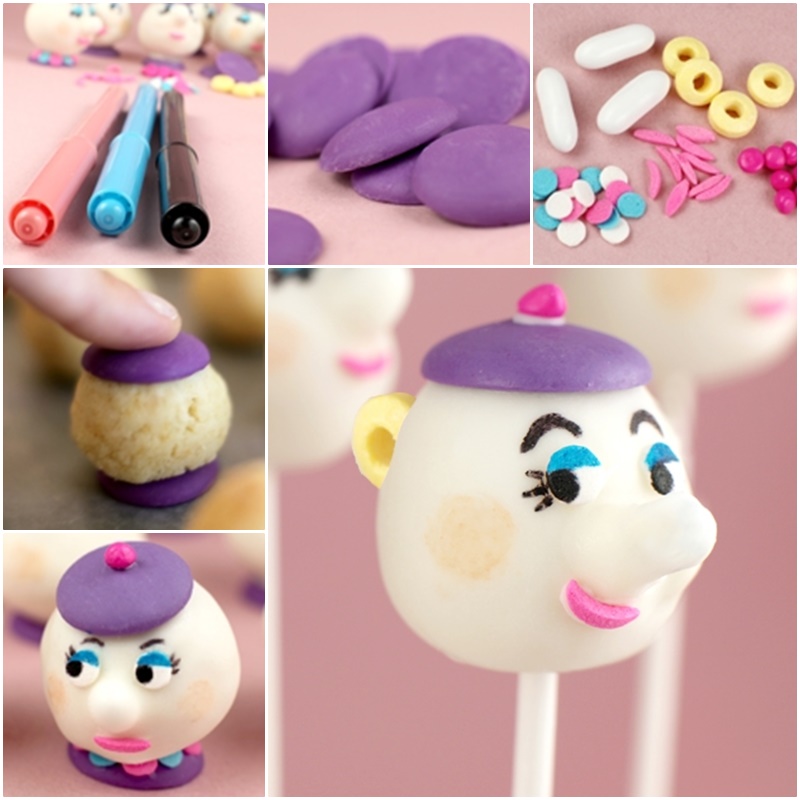 What you'll need:
1 box of light-colored cake mix  (This will make about 48 cake pops. If you don't need that many, then cut cake in quarters and freeze cake sections for another day.)
One 16-ounce can of ready-made frosting.
Wax paper
Baking sheets
White candy coating  ( One ounce of candy coating for each cake pop you plan on dipping and more for any extra decorating.)
Purple candy melts (teapot lid and base)
White licorice pastilles for spout (Good & Plenty will work too)
Yellow candy necklace pieces (handle)
Pink, blue, black and peach edible ink pens (facial details)
Paper lollipop sticks
Styrofoam block
Instructions:
Bake this cake according to box instructions,
Cool completely, crumble into a large bowl.
 With a large spoon, mix crumbled cake thoroughly with about 3/4 of the can of frosting.
Roll the mixture into cake balls
Put in the freezer about 15 minutes to firm them up.
Decorate them.
Clink below link for detail: