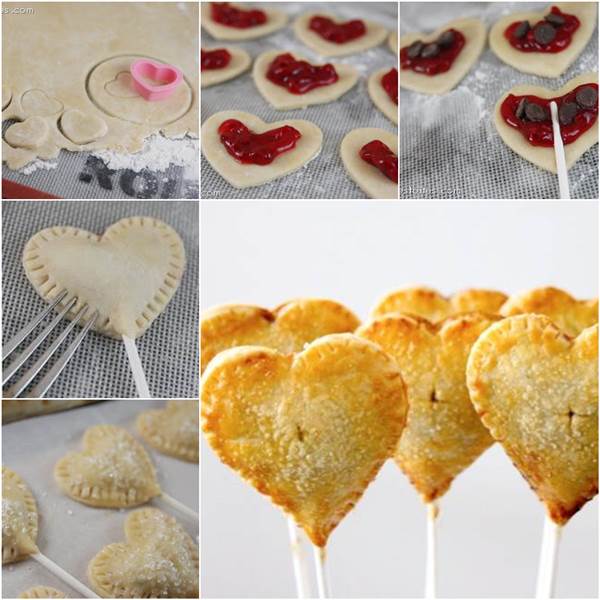 This recipe for making Heart Shaped Sweetie Pie Pops is great to do with your children. You can make these into different shapes such as circles or stars. They are very cute party treats.
Ingredients: (for reference)
Pie Dough:
1 1/2 cups flour
1/2 teaspoon salt
3/4 cup (1 1/2 sticks) unsalted butter, cut into small pieces, chilled
6 to 8 tablespoons ice cold water
Berry Pie Filling: (any filling you like)
1 1/2 cups mixed fresh raspberries and strawberries
1/4 cup plus 2 tablespoons sugar
1 1/2 tablespoons cornstarch
1 teaspoon fresh lemon juice
Others:
Flour, for dusting
1 egg, beaten
Sugar, for dusting
Lollipop sticks
Cookies cutter
Fork
Directions:
Preheat the oven to 375 degrees F. Line a baking sheet with parchment paper.
Roll out dough on a well-floured surface until it is 1/8-inch thick.
Using cookie cutter, cut out heart shape. If the dough becomes too soft, place the entire baking sheet into the refrigerator to chill.
Place filling in the center, leaving a border about 1/4-inch from the edges. Place the lollypop stick, and brush egg wash.
Press the edges together gently with your finger and then use a fork to make sure the edges are completely sealed. (Use a little flour on your fork so your fork doesn't stick to the pie dough.)
Brush the tops of each pie pop with egg wash and sprinkle with sugar.
Bake until golden brown, about 20 minutes.
More detail here